WELCOME TO YOUR PAEDIATRIC SPECIALIST IN MOBILITY EQUIPMENT REPAIRS
Alkira Wheelchair Services is a trusted provider of mobility equipment services in Sydney and nearby areas, offering a specialist service for children. We are highly experienced with children's seating growth and adjustment needs but gladly offer our services to adults as well. We are fully certified with up to date "Working With Children Checks" (WWCC) maintained across our team.
Based in North Parramata, we can easily service the Sydney Metro area including the Blue Mountains and North and South Coast areas. Situated beyond these areas? Let us know where you are – we can travel!

Why choose Alkira Wheelchair Services?
Wide range of experience
We can service a wide selection of paediatric mobility equipment. Our team has years of practical hands-on experience in the wheelchair repair industry and the automotive sector performing wheelchair accessible van conversions.
Our team is dedicated to providing comfortable and convenient solutions. Whether you need us to go to a school, a home address or a care facility, Alkira Wheelchair Services is there.
Creative solutions
Need urgent temporary repairs while waiting for replacement parts? We can provide temporary-fixes to seemingly impossible situations. Even over the phone, when no one else could help, clients have been talked through a jam, and gotten back on the road again!
We work with your original supplier or funding body
We can work with the original supplier of your equipment to provide you with seamless custom mobility equipment repair services. Some of the original suppliers and funding bodies we work with are; PME Group, Active Mobility, Medifab, Family and Community Services (FACS), Independent Living Specialists, GTK Rehab, NDIS, and Enable NSW.
Ensures user comfort
Often during a repair or adjustment on supportive wheelchairs, the seating position can be, or needs to be, altered. Rest assured our technicians aren't just repairers but have a lot of hands on seating experience to correct any changes that may occur with the seating and guarantee to leave every client as comfortable, or more comfortable, than before. With our extensive experience, we ensure that all the equipment we service remains comfortable for the user.

Extensive Repairs, Adjustment and Servicing
Alkira Wheelchair Services offers a wide selection of disability equipment services in Sydney. From wheelchairs to walkers, standers to commodes, we offer complete and tailored solutions. Our services include:
Wheelchair Seating Growth Adjustments
Stander Repairs and Growth Adjustments
Full Mobile Service – We Come to You
We can assess your equipment for you and perform whatever repairs that are possible immediately. If replacement parts are required we provide an obligation free recommendation and quote for your perusal. If you're willing to proceed, the parts required are quickly procured. Upon the arrival of the parts, we can schedule a suitable day, time and place to get the job done.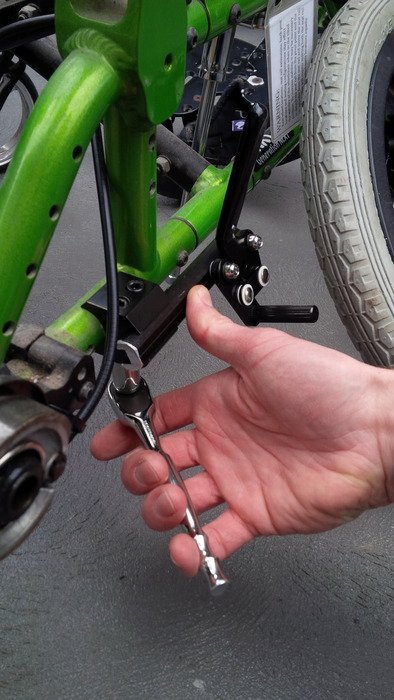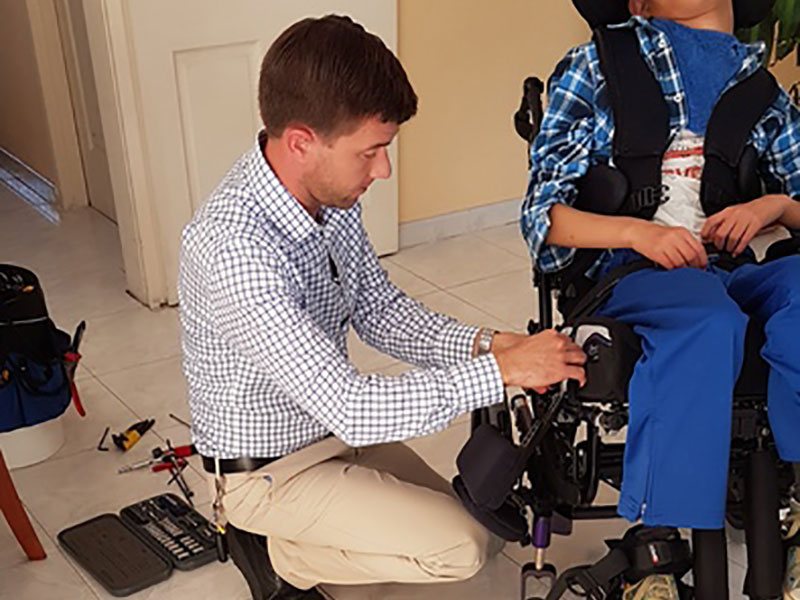 Paediatric Specialist
At Alkira Wheelchair Services, your child's mobility, safety and comfort are our priority. We predominately concentrate and have a lot of experience in manual wheelchair repairs for children and all their seating growth, and adjustment needs. We also service paediatric indoor seating, shower and toilet commodes, standers and walkers.
Brands We Service
Some of the brands we are experienced in working with, but not limited to are; Spex Seating, Sunrise Medical, OttoBock, Freedom Designs, Glide, Invacare, Dreamline Seating, Rifton, K-Care, Leckey, Thomashilfen, and Kaye Walker.
Can't find your brand? Contact us today, and we might be able to service your equipment.
Mobile Repair Services
Need a home service? From our centrally located base near to Parramatta CBD, we service all Sydney areas, but we also accommodate clients in Central Coast, Wollongong, Blue Mountains and South Coast.
We also travel to schools or care facilities. This works well for the parents, carers, teachers and therapists as the child won't have to miss school or travel elsewhere.
Our Partners and Clients
Alkira Wheelchair Services' team is experienced in working in conjunction with, and for; NDIS, Cerebral Palsy Alliance, Enable NSW, Occupational Therapists, Physiotherapists, Parents, Carers, Teachers, and especially children.
We also work with the following mobility equipment suppliers, providing their clients with aftersales service:
Medifab is dedicated to providing comfort by providing a range of special needs equipment that help people of all ages with physical and postural challenges.
PME Group seeks to improve the lives of children and young adults with special needs with quality products and services.
Active Mobility sources some of the world's most technically advanced mobility equipment.